The training courses here can help you acquire the tools, skills, and knowledge you need to manage your climate-related risks and opportunities. All courses are free of charge, and are offered in at least one of three formats: online audio-visual presentations ("Online, Self-Guided" and "Tool Tutorial"), training webinars ("Online, Scheduled Lecture Series"), and residence training courses ("Onsite, Instructor-Led"). Each training module is accompanied with a test to help you evaluate your knowledge. These courses feature scientific information adapted from authoritative sources, prepared by recognized subject matter experts. The courses have been pilot tested with users and other subject matter experts and may be updated periodically, as needed.
This three-day residence training course provides advanced knowledge in climate modeling, downscaling, attribution of extreme weather and water events to climate, and approaches and tools for developing local climate studies.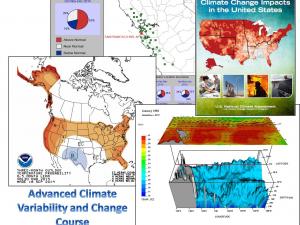 The module presents statistical evidence that demonstrates the impact that climate variability has on weather, explains predictability on time scales from weeks to month and seasons in the future, and the probabilistic nature of climate variability impact on daily weather predictions.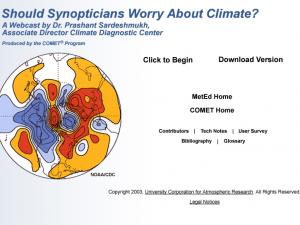 This manual describes a method developed by the Center for International Earth Science Information Network (CIESIN) at Columbia University for climate vulnerability mapping that can be applied to any geographic area. The manual was designed for a five-day training course for GIS analysts in the framework, data, and methods to develop a vulnerability map using the spatial index approach. The primary focus is on the methods needed to process and transform the raw spatial data in order to develop a spatial vulnerability index (and constituent indices for exposure, sensitivity, and adaptive capacity) using a combination of ArcGIS and R statistical computing software. Developed with Tetra Tech ARD under the U.S. Agency for International Development (USAID) Planning for Resilience in East Africa through Policy, Adaptation, Research, and Economic Development (PREPARED) and the African and Latin American Resilience to Climate Change (ARCC) projects. Best used as a guide for training courses, though can be used by individuals to develop vulnerability maps.