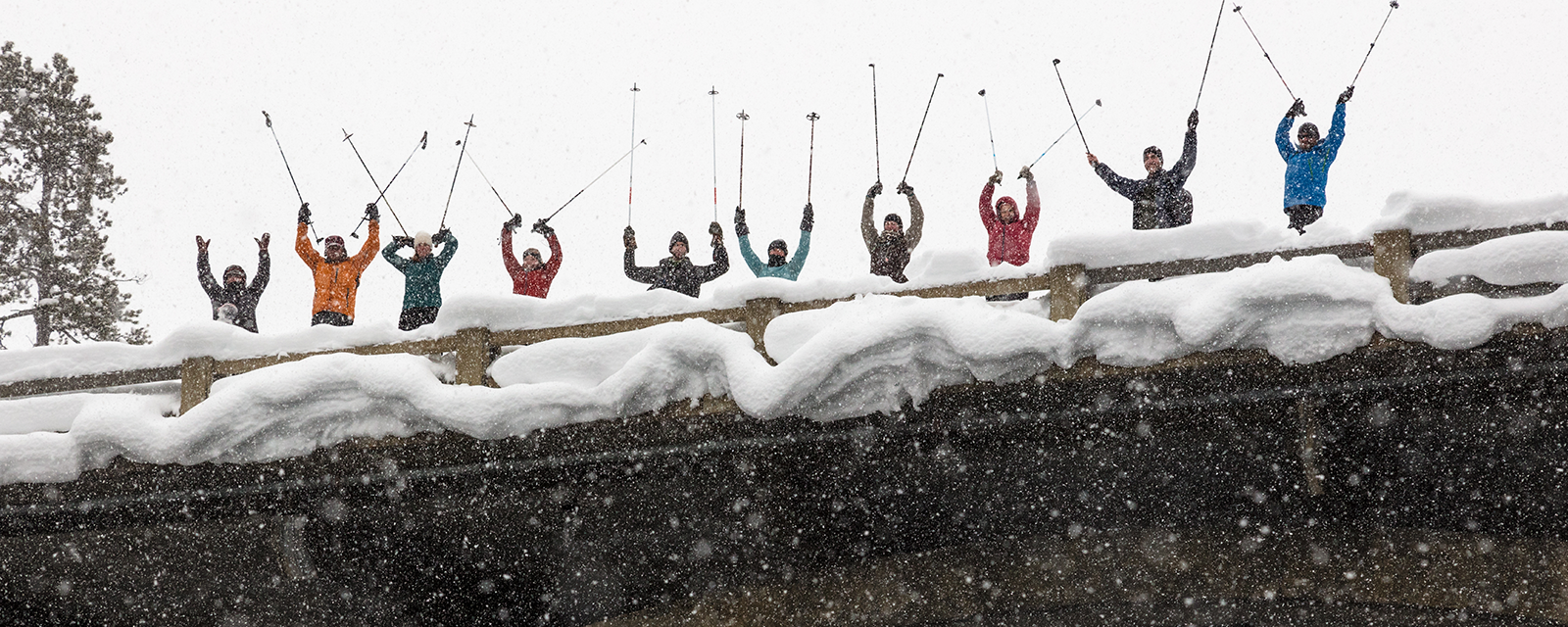 Recreation and tourism are an important part of the Northern Great Plains economy. Climate change is likely to impact the ecosystems that support outdoor recreation and alter where and when people choose to recreate outdoors.
Key Points:
Rising temperatures will result in less snow and shorter seasons for snow-dependent recreation activities, such as skiing or snowmobiling.
Lower summer streamflows, earlier peak runoff, and warmer stream temperatures are likely to alter fishing quality, timing, and species distributions.
Warmer temperatures are expected to expand the peak visitation season in Northern Great Plains parks, with more visitors expected in the spring and fall compared to past use levels.
The increasing prevalence of wildfires may deter some summer visitors.
Adapted from the Fourth National Climate Assessment.
The Northern Great Plains region provides world-class recreational opportunities, including iconic national parks, blue-ribbon trout streams, and renowned ski resorts. Climate change puts the ecosystems that support these recreational opportunities and other valuable goods and services at risk. Here, we explore how climate change is affecting recreation and tourism in the Northern Great Plains, in addition to how federal, tribal, state, and private organizations are working together to respond and adapt.
Recreation and tourism are ingrained in cultures and economies across the Northern Great Plains. The region contains two dozen national parks, monuments, and historic sites. Recreationists enjoyed roughly 13.1 million days of fishing in the region in 2011, along with 10.8 million days of hunting and 8.7 million days of wildlife-watching. This subset of outdoor recreationists alone—among a wider population who pursue additional outdoor recreation activities in the region—spent over $4.9 billion on these activities during 2011 ($5.6 billion in 2020 dollars).1
Climate change affects recreation and tourism both directly and indirectly. Changes in daily temperatures, precipitation, and extreme weather directly affect whether or not someone chooses to participate in a recreational activity, where and when they choose to do so, how often, and using what equipment. For example, someone may choose not to hike on an extremely hot day, or may hike in the fall instead of the summer.
Climate change also affects the characteristics and quality of the ecosystems that support outdoor recreation, indirectly impacting recreation decisions.2 For example, higher stream temperatures and lower streamflow negatively impact habitat for cold-water fish species such as trout. Declining trout populations in turn may influence anglers to fish in other areas or choose different recreation activities. Similarly, rising temperatures have already resulted in shorter snow seasons, impacting the amount of time available for skiing and snowmobiling, with important consequences for local economies that depend on winter-based recreational activities.1
Climate impacts to outdoor recreation and tourism vary by season in the Northern Great Plains. The remainder of this section provides greater detail on potential climate change impacts to recreation and tourism by season, while exploring examples of federal, tribal, state, and private organizations undertaking preparedness and adaptation activities.
Summer
The vast majority of recreation and tourism in the Northern Great Plains region occurs in the summer. Visitation to public lands generally increases with increasing temperatures, but there is a threshold that visitors consider too hot, at which point visitation declines.3,4 At parks in the Northern Great Plains region, it is unlikely to be warm enough to cause a significant decrease in visitation across the whole summer, but visitors may stay home or change activities on exceptionally hot days.4 There will be more extremely hot days in future summers, and park and tourism managers can help reduce heat risk by communicating preventative measures to recreationists (e.g., bring plenty of water while outside, do not hike in the afternoon).5
Climate change will also indirectly affect summer recreation and tourism through impacts on the ecosystems to which recreational opportunities are tied. For example, less snowpack, earlier snowmelt, and higher temperatures are increasing the prevalence of forest fires. Visitors are less likely to visit landscapes recently burned by a fire, and the smoke from fires may also deter summer visitors and decrease tourism spending in the region.6,7,8 Less snowpack and earlier spring snowmelt have also resulted in lower streamflows, especially in late summer.9 Earlier runoff and lower streamflows alter fishing quality, species distributions, and may lead to disease outbreaks in fish.10
Beaver mimicry as a tool for reducing climate change impacts on fisheries

Climate change impacts to tourism and recreation in the summer months include earlier runoff and lower streamflow, which impacts fishing and other water-based recreational activities. Beaver mimicry projects (also called Beaver Dam Analogs) involve using materials found in and around the water source to create a water storage structure similar to those built by beavers in the wild.11 Reintroduction of beavers to restore streambeds has also occurred in the western USA.12 Managers may use beaver mimicry projects to strategically place dams in places where a wild beaver may not choose to build, and allow for a higher density of structures than with natural beaver dams.13 Beaver mimicry projects improve water storage in wetlands14 and slow water flow to provide higher water levels in hotter summer months.13

The Blackfeet Nation in Montana have implemented a beaver mimicry pilot project, Ksik Stakii, as part of the Blackfeet Climate Change Adaptation Plan. This project addresses climate change impacts to fish that could harm the whole tribe, and helps protect a renowned fishing destination and important revenue source for the tribe as a whole.15 The Ksik Stakii project released a Beaver Mimicry Guidebook (PDF) in 2019 that provides detailed instructions for enhancing natural water storage on Blackfeet Nation lands.

Other examples of beaver mimicry projects in the Northern Great Plains include:
Winter
Increased temperatures have already reduced the amount of winter precipitation falling as snow.16 In the mountains of western Wyoming and western Montana, the fraction of total water in precipitation that falls as snow (from October 1 to March 31) is expected to decline 25 percent by 2100 under a lower emissions scenario (RCP4.5).17 Declining snowfall and snowpack will negatively affect many snow-dependent activities, including snowmobiling, cross-country skiing, and downhill skiing.18
The season length for all snow-dependent activities is likely to shrink. Ski resorts that have snow-making capabilities may be able to extend the season length; however, as temperatures rise, there will be fewer days where artificial snow production is viable.19,20,21 Ski resorts are expected to see fewer visitors, and are likely to lose revenue unless they adapt, such as by diversifying their offerings to include activities that are not snow-dependent.22,21,23
Cross-country skiing and snowmobiling are dependent on natural snow, and the season length is projected to decrease by 20 percent to 60 percent by 2090 under RCP4.5 in Wyoming and Montana.18 Declining season length and reduced participation in winter recreation are likely to have negative impacts to local economies.24 However, with declining snowpack and warming temperatures, there may be more opportunities for recreationists to participate in other activities, such as hiking and mountain biking, in future winters.25
Climate change mitigation in the ski resort industry

In response to climate change impacts on winter recreational activities, mountain resorts are implementing sustainability plans. Many of these plans focus on reducing carbon emissions to help mitigate climate change impacts. Ski resorts in the Northern Great Plains region with sustainability plans include Big Sky Resort and Bridger Bowl in Montana and Jackson Hole Mountain Resort in Wyoming.

Big Sky Resort's Forever Project is working towards zero carbon emissions by 2030. In 2019, Big Sky hired a sustainability specialist and joined the National Ski Areas Association's Climate Challenge. This challenge includes the completion of a greenhouse gas inventory and a plan for reducing emissions. The goals outlined by Big Sky Resort focus on reducing energy use, waste output, and impacts on water. For example, energy efficiency measures include clean energy lifts and solar-powered beacon checkers in the high alpine.

Like Big Sky, Bridger Bowl is working with the National Ski Areas Association's Climate Challenge and Sustainable Slopes programs. Bridger Bowl's sustainability efforts are spearheaded by a "Green Team" comprised of employees who research, implement, and advocate for sustainability practices and work with a number of partners, including Protect Our Winters, the Montana Environmental Information Center, and the Montana Renewable Energy Association.

Bridger Bowl's sustainability efforts help reduce emissions through solar-powered chairlifts and several bus and carpooling options. The resort has also reduced water consumption through low-flow sinks and toilets and is exploring on-site wastewater treatment using native plants.

Jackson Hole Mountain Resort in Wyoming has an Environment and Sustainability program that includes directly sourcing all electricity from wind power provided by a nearby wind farm. The resort is also in the process of developing a Climate Action Plan that will define how to further reduce greenhouse gas emissions and set clean energy targets.
Shoulder Seasons—Spring and Fall
Warmer-than-average temperatures generally equate to longer shoulder seasons in which individuals can participate in warm-weather activities (e.g., hiking, biking).26 Increased temperatures due to climate change have already expanded the length of peak seasons in many U.S. parks,27,28 and the season length is expected to extend even longer by 2050.4 All National Park Service units in the Northern Great Plains region are expected to see increased visitation due to warming temperatures, mostly because of higher visitation in shoulder seasons and the off-season (winter).4 In the future, seasonal employees may need to work longer seasons and businesses in gateway communities may want to increase staffing for a longer visitation season. Extended peak-season length and warming temperatures are likely to increase operating expenditures of state park systems, which suggests that entrance fees may increase or governments may need to allocate more funding to maintain these resources in the future.29
Climate change is likely to affect which outdoor activities people participate in during shoulder seasons. Warmer fall seasons may change wildlife movements or migrations, which could affect hunters' decisions about when, where, and how to hunt. Ultimately, climate change could affect harvest rates for hunters, which may decrease hunting participation or cause a shift in hunting seasons.26
Although snow-based recreational activities historically have continued into the spring, future shoulder seasons are likely to offer more warm-weather recreational opportunities (e.g., hiking, nature-viewing) and fewer snow-based activities. Climate-driven changes in snowpack, spring snowmelt, and runoff have resulted in more rapid melting of winter snowpack and earlier peak runoff due to rapid springtime warming.1 In Wyoming and Montana, there has already been a substantial decline in April snowpack from 1955–2016.16 Since total participation in activities that do not require snow is higher than snow-based activities,30 this is likely to increase total visitation during these seasons.
Regional National Park Service units are preparing for climate change effects on visitation

The National Park Service (NPS) manages 24 units in the Northern Great Plains Region. Eight of these NPS units are part of the Climate Friendly Parks Program (see list below). As a part of this program, NPS units are provided with support to measure greenhouse gas emissions, provide educational materials to visitors and staff about how they can address climate change, and develop sustainability plans to address climate change challenges at the site.

The NPS has also conducted research on how climate change will impact park visitation. Unit-specific briefs on how climate change might alter visitation in the Northern Great Plains region are linked below:
1. a. b. c. Conant, R.T., D. Kluck, M. Anderson, A. Badger, B.M. Boustead, J. Derner, L. Farris, M. Hayes, B. Livneh, S. McNeeley, D. Peck, M. Shulski, and V. Small, 2018. "Northern Great Plains (Chapter 22)." In: Impacts, Risks, and Adaptation in the United States: Fourth National Climate Assessment, Volume II [Reidmiller, D.R., C.W. Avery, D.R. Easterling, K.E. Kunkel, K.L.M. Lewis, T.K. Maycock, and B.C. Stewart (eds.)]. U.S. Global Change Research Program, Washington, DC, USA, pp. 941–986. doi: 10.7930/NCA4.2018.CH22.
2. Monz, C.A., K.J. Gutzwiller, V.H. Hausner, et al., 2021. "Understanding and managing the interactions of impacts from nature-based recreation and climate change." Ambio 50, 631–643.
3. Brice, E.M., B.A. Miller, H. Zhang, K. Goldstein, S.N. Zimmer, G.J., and J.W. Smith, 2020. "Impacts of climate change on multiple use management of Bureau of Land Management land in the Intermountain West, USA." Ecosphere 11(11), e03286.
4. a. b. c. d. Fisichelli, N.A., G.W. Schuurman, W.B. Monahan, and P.S. Ziesler, 2015. "Protected area tourism in a changing climate: Will visitation at US national parks warm up or overheat?" PloS one 10(6).
5. Howe, P.D., J.R. Marlon, X. Wang, and A. Leiserowitz, 2019. "Public perceptions of the health risks of extreme heat across US states, counties, and neighborhoods." Proceedings of the National Academy of Sciences 116(14), 6743–6748.
6. Kim, M.-K., and P.M. Jakus, 2019. "Wildfire, National Park Visitation, and Changes in Regional Economic Activity." Journal of Outdoor Recreation and Tourism 26, 34–42.
7. Duffield, J.W., C.J. Neher, D.A. Patterson, and A.M. Deskins, 2013. "Effects of wildfire on national park visitation and the regional economy: A natural experiment in the Northern Rockies." International Journal of Wildland Fire 22(8), 1155–1166
8. Polzin, P.E., M.S. Yuan, and E.G. Schuster, 1993. Some economic impacts of the 1988 fires in the Yellowstone area. U.S. Department of Agriculture, Forest Service, Intermountain Research Station.
9. Rood, S.B., J. Pan, K.M. Gill, C.G. Franks, G.M. Samuelson, and A. Shepherd, 2008. "Declining summer flows of Rocky Mountain rivers: changing seasonal hydrology and probable impacts on floodplain forests." Journal of Hydrology 349(3–4), 397–410.
10. Lamborn, C.C., and J.W. Smith, 2019. "Human perceptions of, and adaptations to, shifting runoff cycles: A case-study of the Yellowstone River (Montana, USA)." Fisheries Research 216, 96–108.
11. Norman, E., 2017. "Climate Change Resiliency Efforts using Beaver Mimicry Restoration." Guest Lectures 63, Digital Commons @ Montana Tech.
12. Pilliod, D.S., A.T. Rohde, S. Charnley, R.R. Davee, J.B. Dunham, H. Gosnell,...and C. Nash, 2018. "Survey of beaver-related restoration practices in rangeland streams of the western USA." Environmental Management 61(1), 58–68.
13. a. b. Pollock, M.M., T.J. Beechie, J.M. Wheaton, C.E. Jordan, N. Bouwes,N. Weber, and C. Volk, 2014. "Using beaver dams to restore incised stream ecosystems." Bioscience 64(4), 279–290.
14. Hadley, R., M.A. Speece, M.A. Khalil, G.D. Shaw, and R. Pal, 2019. "Geophysical Survey of Blacktail Creek Beaver Mimicry Site near Butte, Montana." AGUFM 2019, NS41B-0809.
15. Blackfeet Nation, 2018. Blackfeet Climate Change Adaptation Plan (PDF).
16. a. b. U.S. Environmental Protection Agency, 2016. Climate change indicators in the United States, 2016. Fourth edition. EPA 430-R-16-004.
17. Pierce, D.W., and D.R. Cayan, 2013. "The uneven response of different snow measures to human-induced climate warming." Journal of Climate 26(12), 4148–4167.
18. a. b. Wobus, C., E.E. Small, H. Hosterman, D. Mills, J. Stein, M. Rissing,...and J. Creason, 2017. "Projected climate change impacts on skiing and snowmobiling: A case study of the United States." Global Environmental Change 45, 1–14.
19. Scott, D., R. Steiger, N. Knowles, and Y. Fang, 2020. "Regional ski tourism risk to climate change: An inter-comparison of Eastern Canada and US Northeast markets." Journal of Sustainable Tourism 28(4), 568–586.
20. Scott, D., R. Steiger, M. Rutty, M., M. Pons, and P. Johnson, 2019. "The differential futures of ski tourism in Ontario (Canada) under climate change: the limits of snowmaking adaptation." Current Issues in Tourism 22(11), 1327–1342.
21. a. b. Steiger, R., D. Scott, B. Abegg, M. Pons, and C. Aall, 2019. "A critical review of climate change risk for ski tourism." Current Issues in Tourism 22(11), 1343–1379.
22. Knowles, N.L.B., 2019. "Can the North American ski industry attain climate resiliency? A modified Delphi survey on transformations towards sustainable tourism." Journal of Sustainable Tourism 27(3), 380–397.
23. Scott, D., and G. McBoyle, 2007. "Climate change adaptation in the ski industry." Mitigation and Adaptation Strategies for Global Change 12(8), 1411.
24. Burakowski, E., and M. Magnusson, 2012. Climate impacts on the winter tourism economy in the United States. New York, NY: Natural Resources Defense Council.
25. Askew, A.E., and J.M. Bowker, 2018. "Impacts of climate change on outdoor recreation participation: Outlook to 2060." Journal of Park and Recreation Administration 36(2).
26. a. b. Hand, M.S., J.W. Smith, D.L. Peterson, N.A. Brunswick, and C.P. Brown, 2018. "Effects of climate change on outdoor recreation [Chapter 10]." In Halofsky, J.E., D.L. Peterson, J.J. Ho, N.J. Little, and L.A. Joyce, (Eds). Climate change vulnerability and adaptation in the Intermountain Region [Part 2]. Gen. Tech. Rep. RMRS-GTR-375. Fort Collins, CO: U.S. Department of Agriculture, Forest Service, Rocky Mountain Research Station. p. 316–338.
27. Buckley, L.B., and M.S. Foushee, 2012. "Footprints of climate change in US national park visitation." International Journal of Biometeorology 56(6), 1173–1177.
28. Monahan, W.B., A. Rosemartin, K.L. Gerst, N.A. Fisichelli, T. Ault, M.D. Schwartz,...and J.F. Weltzin, 2016. "Climate change is advancing spring onset across the US national park system." Ecosphere 7(10).
29. Smith, J.W., E.J. Wilkins, and Y.F. Leung, 2019. "Attendance trends threaten future operations of America's state park systems." Proceedings of the National Academy of Sciences 116(26), 12775–12780.
30. Outdoor Foundation, 2020. 2019 Outdoor participation report. Boulder, CO.
Cross-country skiers on the Chittenden Bridge, Yellowstone National Park. Image: National Park Service / Jacob W. Frank. Public domain
10 September 2021 - 5:17pm