NIHHIS helps decision makers prepare for extreme heat events days, months, and years in the future.
Heat warnings in your area
View heat warnings in your area by state
UNDERSTANDING THE HEALTH RISK OF EXTREME HEAT
Climate conditions such as high temperatures create a heat hazard. Exposure to this hazard, particularly if a person is sensitive and not well adapted, creates risk, and increases the likelihood of negative health outcomes.
Health Outcomes
Exposure to extreme heat can have many direct effects on human health (heat stroke, reduced labor productivity), as well as indirect effects (promoting air pollution and increasing asthma attacks, overloading power grids requiring rolling blackouts). Negative health outcomes occur if an individual is exposed to the hazard and has not sufficiently adapted to reduce sensitivity.
Sensitivity
Inherent characteristics of a person that make them vulnerable to heat, such as preexisting conditions, age, or occupation. To understand how to protect these groups, see Populations of Concern
Adaptability
The ability of a person to take measures to reduce exposure and sensitivity - for example, avoiding outdoor activities during the day or wearing personal protective equipment (PPE) that is designed to mitigate heat buildup. When exposure is not preventable, adaptability can help reduce the impact of heat.
Exposure
The extent to which an individual is exposed to extreme heat. Going outside on a hot, humid day and working in direct sunlight constitutes high exposure, while reducing exposure includes avoidance of these activities. Sometimes exposure is not preventable.
Climate conditions
Climate conditions that create a heat hazard include direct sunlight, low winds, high humidity, and high temperatures. When these conditions exist, a heat hazard is created.
STEPS TO BUILDING LONG-TERM RESIliENCE TO EXTREME HEAT
Planning for a long-term reduction in heat-health risk requires

understanding the health risk of extreme heat

, and following an organized series of

steps for reducing risk

.
HEAT FORECASTS
Current Temperature Probability Outlook
Current Heat Index Outlook
6-10 Day Temperature Probability Outlook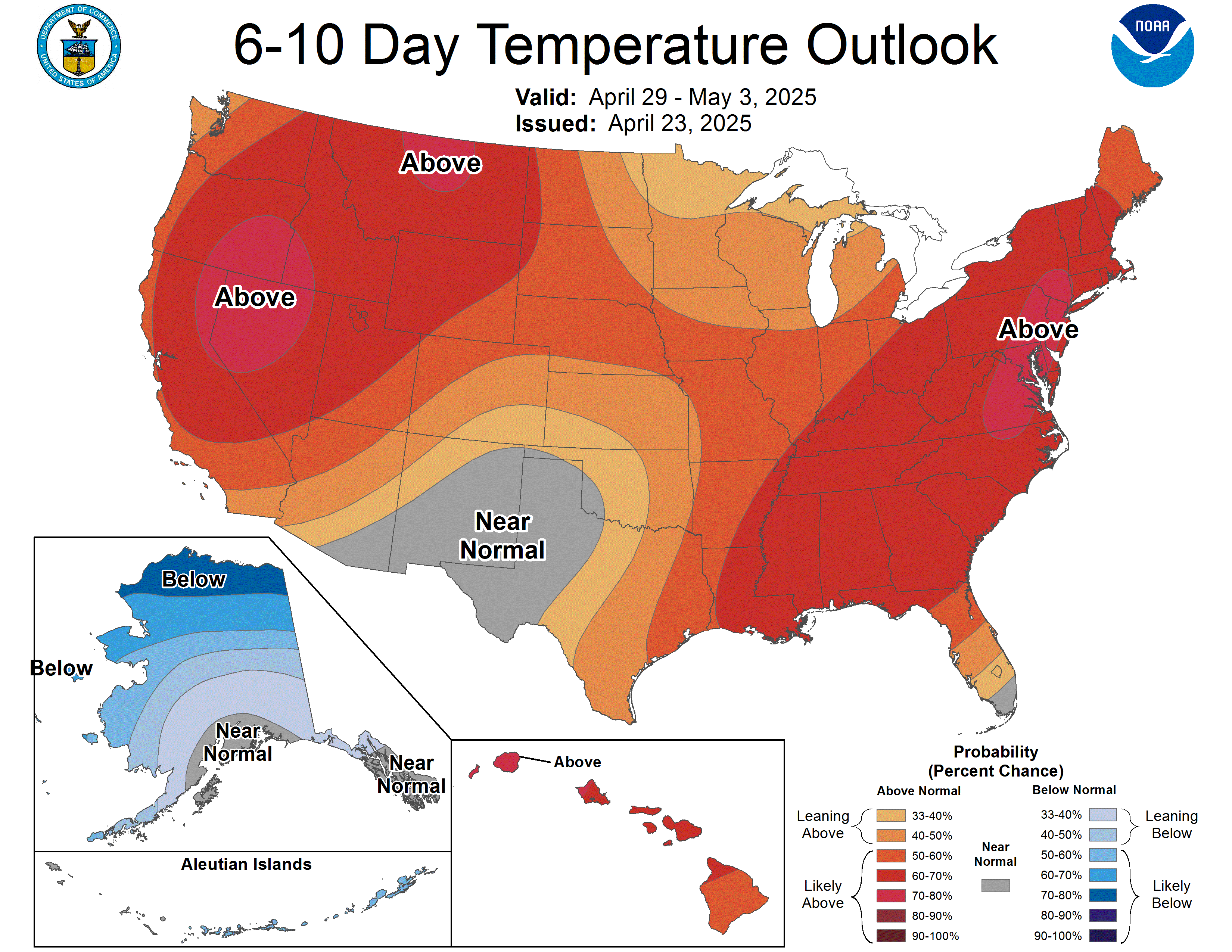 In this map, shaded areas show where average temperature has an increased chance of being warmer or cooler than usual. The darker the shading, the greater the chance for the indicated condition. White areas have equal chances for average temperatures that are below, near, or above the long-term average for the month.
Learn More